Would you have to deliver an attention-grabbing ceremonial speech? Are you searching for the best ceremonial speech topics and ideas for your public speaking assignment? Well, especially, to help you out, in this blog post, we have provided an overview of ceremonial speech along with the most common types of ceremonial speeches. Also, here, we have compiled some exclusive ceremonial speech topic ideas that will help you to showcase your speaking skills.
Continue reading this blog post and get a complete understanding of ceremonial speech.
What is a Ceremonial Speech?
As the name suggests, a ceremonial speech is a kind of formal speech that is presented at a ceremony or ritual. The ultimate aim of this speech is to express gratitude for the honor and recognize the people who helped to achieve the accomplishments.
Basically, in our life, we attend a lot of ceremonies. Some major ceremonial occasions we take part in are weddings, graduation ceremonies, funerals, award functions, and so on. Note that, mainly, in order to grace the occasion or event, you can give ceremonial speeches.
In general, ceremonial speeches are classified into different types based on the occasion or events. Basically, each ceremonial speech type serves a unique purpose. When it comes to delivering a ceremonial speech, depending upon the occasion or event you attend, you should deliver impressive content while keeping the purpose in mind. Say for instance, at a funeral, you should give a eulogy and you should deliver a toast speech at a wedding ceremony.
No matter what ceremonial speech type you choose to give, the content you deliver should engage the audience. Also, most importantly, your ceremonial speech should be inspiring, impactful, memorable, and entertaining to the listeners.
Different Types of Ceremonial Speeches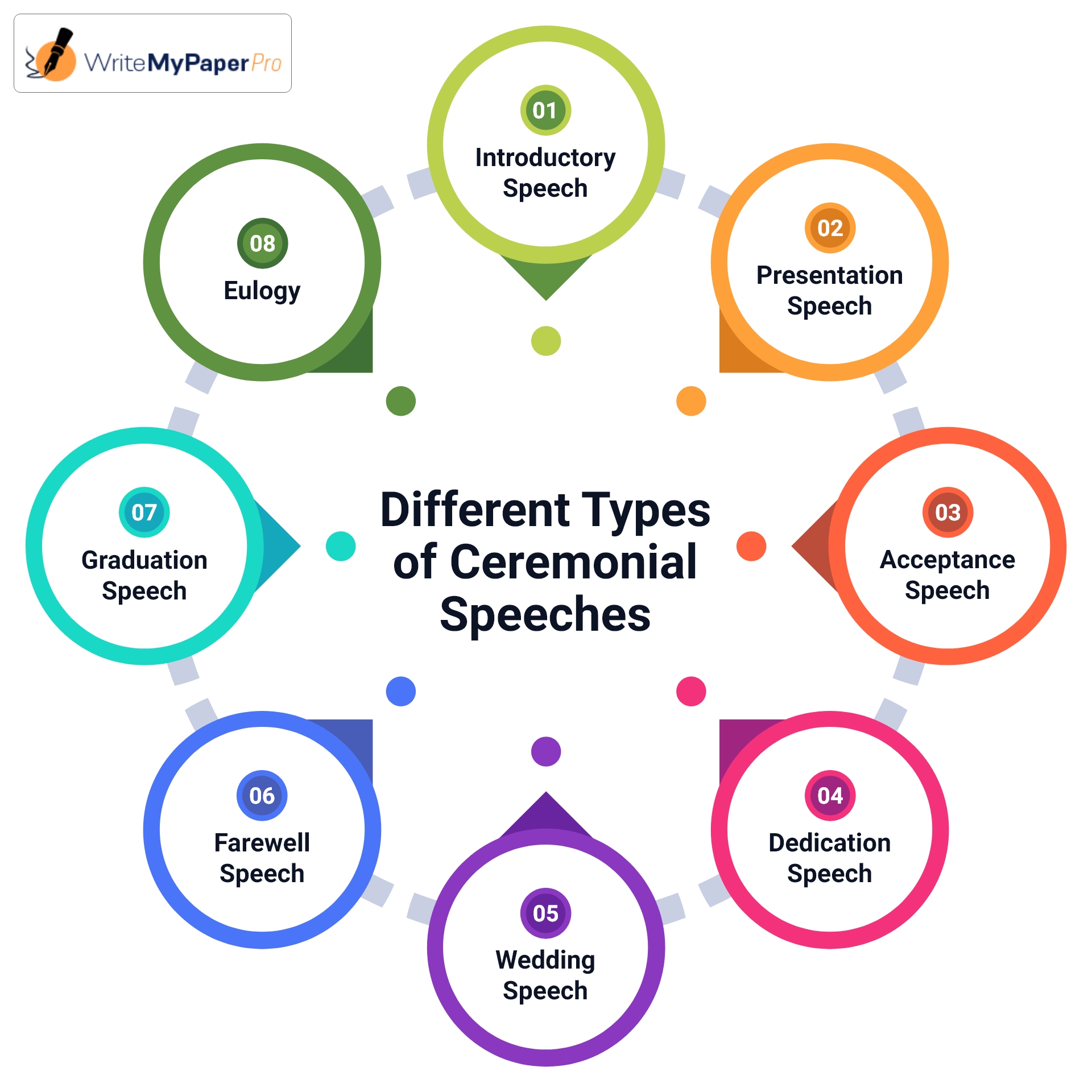 Till now we saw a simple overview of what a ceremonial speech means. In this section, let us have a closer look at the different ceremonial speech types.
The following is a list of various ceremonial speeches you can give while you attend any specific occasion or event.
Introductory Speech
Presentation Speech
Acceptance Speech
Dedication Speech
Wedding Speech
Farewell Speech
Graduation Speech
Eulogy
Introductory Speech
The introductory speech is a speech that an event host gives to introduce the guest or speaker to the audience. This speech should be short and sweet. If you are a host, then while delivering an introductory speech you should pronounce the name of the speaker properly. Also, the introduction you give should be creative and elevate the excitement level of the audience.
Presentation Speech
A presentation speech is another formal ceremonial speech. Mostly, this speech is given at the time of presenting a prize, honor, or award to a person. The main aim of this speech is to acknowledge the accomplishments of the winner. If you are giving a presentation speech, make sure to mention the importance of the award or prize, and list out the merits of the winner. Also, try to personalize your speech and highlight the credibility of the award and ceremony.
Acceptance Speech
A speech that a person who receives a prize, award, or honor gives is called an acceptance speech. Note that, the content of this speech should be filled with gratitude. In case, you are giving an acceptance speech, be certain to share your thanks to all those people who supported you and contributed to your achievements. As this speech is a kind of thanks note, the tone you use should be formal and polite. Also, in this speech, you can share the plans you have for the future in order to justify the credibility of the work for for which you received an honor.
Dedication Speech
A dedication speech is a speech through which you can formally deliver something to a person. Often, this kind of speech is given at shop opening functions, inauguration ceremonies, and so on. If you are giving a dedication speech, then make sure to specify the significance of the project, and also state the reasons why you wish to dedicate it to that particular person.
Wedding Speech
A wedding speech is one of the most popular types of public speaking. In order to wish the new couple good wealth, health, and happiness in their marriage, this speech is given. As a toastmaster, while delivering a wedding speech, you should share your thanks to the parents who arranged the wedding, the guests who came to attend the wedding, and all other remaining people who are a part of the ceremony. Besides the toastmaster or MC, the father of the bride, groom, best man, and maid of honor can also present a memorable wedding speech. Remember, your wedding speech content should be short and engaging. Also, your speech should have a mix of humor and emotions.
Farewell Speech
A farewell speech or goodbye speech is a speech that is often given at farewell parties conducted at schools, colleges, and offices. Basically, you can deliver this speech if you shift from the current part of your life to a different one. While giving a farewell speech, be certain to thank all those who stood as a pillar of support in that particular stage of life. Also, express your gratitude to the people who guided or helped you to achieve your goals. Note that, your farewell speech should be entertaining as well as emotional. Especially, while you present your farewell speech, share some beautiful memories you have created in that specific period.
Graduation Speech
A speech that is given by a student on successful completion of the course of study at colleges or universities is called a graduation speech. Mainly, when you deliver this speech, you should mention your past experience, future hope, and accomplishments. Remember, this speech should be simple, short, and inspiring.
Eulogy
A eulogy is a kind of emotional speech that is given in order to honor a person who is not alive. Usually, the priests or religious leaders deliver a eulogy to pay their tribute to the departed soul. If you are asked to present a eulogy or mourning speech, try to highlight the rich legacy and value of the person who is dead. Also, in your speech, use lovable phrases to console the family and friends of the deceased. Avoid giving any remarks that hurt the sentiments of others. In particular, while giving a eulogy, set your voice pitch in low mode.
Ceremonial Speech Topics and Ideas List
Do you want engaging ceremonial speech topics and ideas for your assignment? Well, below we have suggested a list of impressive ceremonial ideas in several categories. Without any hesitation, have a look at the whole list and pick a topic that is convenient for you to speak about.
Wedding Ceremonial Speech Topics
The following are some interesting wedding ceremonial speech topics and ideas you can consider for your public speaking assignment.
A wedding toast from the father of the bride.
Give a toast at a wedding rehearsal dinner.
A toast at a wedding anniversary party for your parents or grandparents.
Fake drunk wedding toast.
A wedding toast from the best man.
Give a toast at a bachelor or bachelorette party.
A wedding toast from the maid of honor.
Share a funny anecdote about the run-up to this beautiful occasion.
Mention the funny things about the groom or bride.
Narrate a happy story of the bridal couple.
Explain how they met for the first time.
Tell how they have been introduced to the parents.
Acceptance Speech Topics
Listed below are a few acceptance speech topics.
Deliver an Academy Award acceptance speech.
Give an acceptance speech for receiving the most valuable player award.
Present an acceptance speech for getting the best teacher of the year award.
Deliver an election acceptance speech.
Give a Nobel Prize acceptance speech.
Give an acceptance speech for receiving the best employee award
Give an acceptance speech for receiving the bravest soldier award
Present a senior management position acceptance speech
Deliver a Nobel Prize acceptance speech.
Graduation Ceremonial Speech Topics
Here are some impressive graduation ceremonial speech topics that will be helpful to you.
Deliver a kindergarten or elementary school graduation speech as a principal or teacher.
Give a graduation speech on account of the successful completion of your Engineering degree.
Imagine and give a commencement address from a famous person, living or dead.
Tell a unique story.
Eulogy Topic Ideas
The following are a few eulogy topic ideas that you can take into consideration for your speech assignment.
Present a eulogy for a famous person
Share a eulogy for a family member or friend.
Give a eulogy for a pet.
Present a eulogy for a war hero.
Imagine and deliver a eulogy for a fictitious television, movie, or book character.
As a principal or teacher, deliver a commencement address for kindergarten or elementary school.
Create a fictional commencement speech from a renowned person, living or deceased, then deliver it.
Give a speech at your graduation to celebrate earning your engineering degree successfully.
Make an acceptance speech in response to being named the most valuable player.
Give a speech of gratitude for winning the best teacher of the year award.
Give a eulogy for a well-known individual.
Give a tribute to your pet.
Offer a eulogy in honor of a teacher.
Imagine giving a fictional character from a book, movie, or television show a eulogy.
Say a few words in a hero's honor.
Read more: Amazing Case Study Topics on Various Academic Subjects
Ceremonial speech topics:
Share your thoughts on the saying, "Kindness is the finest present for the needy who expect them mosts to survive."
Top Brilliant Social Media Ads that Alter Thoughts
"How internet food delivery boys function in lockdown & pandemic conditions" would want your warmest welcomes.
Paying respects to the front-line personnel that died while battling the COVID-19 epidemic.
collaborating with benefactors to improve the quality of life in the globe.
Raise your voice in support of human rights and equality for the underclass.
Salute "Front-line employees in the Medical and Administrative Service Sectors."
Build alliances and pursue peace and harmony through cooperating.
Honor to the Scientists who Uncover the Biomedical Engineers' Roadmap.
A lamentation addressed to those who have been affected by the slave trade practices and slavery.
The Bottom Line
Hopefully, the list of ceremonial speech topics and ideas suggested above will help you in preparing a great speech. In case, you need a customized speech topic, or if want help in crafting engaging ceremonial speech content, then immediately reach out to us. Especially, to offer you speech assignment writing help online, we have skilled speechwriters on our team. Mainly, through our online speech assignment writing services, you can get high-quality assistance to prepare speech content for all speech types.
Right now do you need cheap and best speech writing help? Are you looking to hire someone for writing a speech on ceremonial topics? Contact us now! For all types of speeches, we will prepare and deliver original speech content to you at an affordable price without skipping the deadlines.
Just book your order and get a top-notch speech from our speech writing experts.
Besides speech writing help, through our services, we also offer research paper and essay writing help online at a fair price. So, as per your need, simply avail any of our academic writing services and earn more benefits at an easy go.